Gail Roddie-Hamlin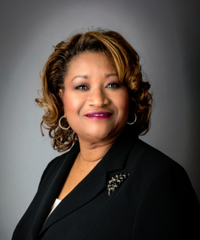 Gail has an extensive career as a senior executive leader and in 2018 was promoted to national vice president of community engagement for the Alzheimer's Association®. In this role, she engaged diverse communities and groups across the nation to advance Alzheimer's care, development, and research, by building strategic partnerships with influential organizations to advance the mission of the Alzheimer's Association.
Gail was promoted to regional leader in 2016, providing executive leadership to 80 staff members and an extensive volunteer network across Delaware, New Jersey, and Pennsylvania. She oversaw a $10 million annual budget and raised $15 million in annual fundraising. Under her direction, the region advanced public policy for numerous congressional districts, drew significant media coverage around Alzheimer's and dementia, accelerated clinical trial recruitment, and delivered programs and services to more than 37,000 individuals and their families.
In 2011, she joined the Association as president and CEO of the Greater Pennsylvania Chapter and worked with the local board of directors to implement community programs and services, advance advocacy efforts, and increase fundraising through 26 Walk to End Alzheimer's® events throughout the state. 
Before joining the Association, Gail spent nearly 30 years at the American Cancer Society® in a variety of leadership and fundraising roles. Her past titles include regional vice president of Los Angeles County, chief operations officer for the Mid-Atlantic and South Atlantic Divisions, and executive vice president of Community Outreach, where she led diverse community engagement for eight states to advance cancer prevention, detection, research, and leadership development for the South Atlantic Division.
Gail was recognized by Black Health magazine as one of the top 25 most influential African Americans in health care. She holds a master's degree in public health from California State University, Long Beach, where she was honored as a distinguished alumna. She is a Life member of Alpha Kappa Alpha Sorority, Inc.