About The Children's Heart Foundation
The Children's Heart Foundation was founded in 1996 and is the country's leading organization solely dedicated to funding congenital heart defect (CHD) research. 
Our mission is to advance the diagnosis, treatment, and prevention of congenital heart defects by funding the most promising research.
To date, through 2021, The Children's Heart Foundation has funded $15 million of CHD research and scientific collaborations— driving breakthroughs that have improved survival rates, longevity, and quality of life for individuals living with CHDs in dramatic and life-changing ways. In many cases, we've provided start-up funding for research that's gone on to earn support from larger entities such as the National Institutes of Health or the U.S. Department of Defense, along with pharmaceutical and/or medical device industries. The research we fund is truly moving the needle.
With your support, we are saving lives and Placing Children at the Heart of Research. 
Click here to download our brochure. Click here for a one page informational sheet about CHF.
History of The Children's Heart Foundation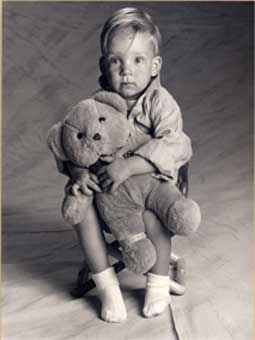 The story of The Children's Heart Foundation begins with the joyful life and premature death of Sam Peterson (right), who was born with congenital heart defects.
Sam, the 8-year-old son of Betsy and Steve Peterson, died January 3, 1995, of multiple organ failure brought on by a sudden heart-related collapse. Doctors were never able to explain why Sam was born with complex CHDs or why he collapsed so suddenly.
If Sam had been born 20 years earlier, he wouldn't have survived even a day after his birth. During his short life, Sam proved that modern technology could conquer congenital heart defects, if only for a while.
With the support of family and friends, and an understanding of the gift given to them because of research, Betsy and Steve bravely responded to their loss by creating The Children's Heart Foundation. Friends, colleagues, and leading medical professionals formed the Board of Directors and the Foundation was incorporated in Illinois in June of 1996.
It's only through continued research that children born with CHDs have the chance to survive, which is why The Children's Heart Foundation is dedicated to funding this critical research.