Placing Children at the Heart of Research
The Children's Heart Foundation exists for one reason: to save, extend, and improve the lives of all congenital heart defect patients by funding the most promising research.
Our vision is a world in which everyone born with a congenital heart defect has the chance to live a long, healthy life, and that eventually, CHDs will be eradicated altogether. 
With the help of our volunteers and supporters, we are making great progress. Research funded by The Children's Heart Foundation is saving lives and has already improved survival rates, longevity, and quality of life for CHD patients in dramatic and life-changing ways. In the past two decades, death rates from congenital heart defects have dropped by 37.5 percent. As a result, the Foundation is now supporting research on the developmental, transitional, and lifelong care needs affecting the millions of Americans with CHDs who are living longer lives than ever before. The research we fund is saving lives and positively impacts all CHD patients.
Because of continued research into CHDs, scientists are: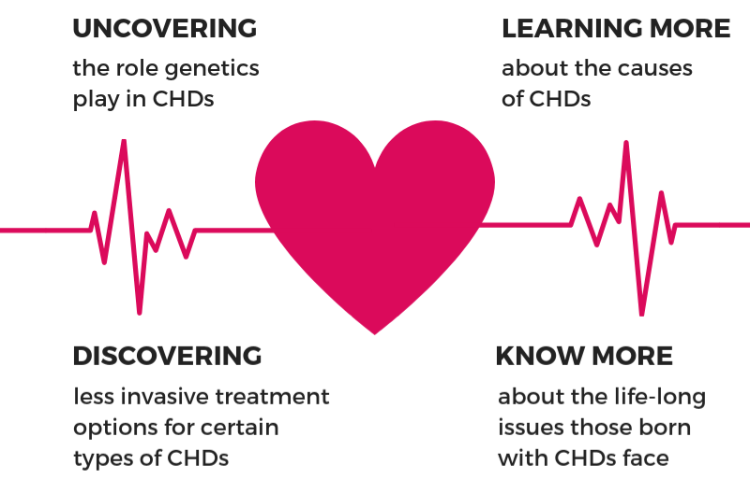 Our 2019 Year-end Update shares details on our research funding efforts and other ways we are working toward a world in which everyone born with a CHD can live a long and healthy life. Read the Year-end update here.
Stories like these inspire us to continue funding research and looking for answers:
"By funding research into what causes congenital heart defects and how to better treat people living with them, we are laying the groundwork for more children with CHDs to survive into adulthood."

- Bradley Marino, MD, MPP, MSCE, of Ann & Robert H. Lurie Children's Hospital of Chicago

"Like many children growing up with CHDs, I always wondered whether I would be around to see my 25th birthday. If you would have told me I would be 31 years old and living an otherwise completely healthy life, I would have told you that you were crazy. But here I am today and aside from my many great doctors, I only have The Children's Heart Foundation to thank."

- Billy Lyman, Heart Warrior & Volunteer

"We support The Children's Heart Foundation because we wouldn't have had that summer and 16.5 months with Kane without modern day medicine and medical advancements. Our wish is for families to have more hope than fear, and more summers together."

- Lindsay O'Brien, Mom of Heart Angel, Kane
Is CHD research important to you and your family? Share your story with us.