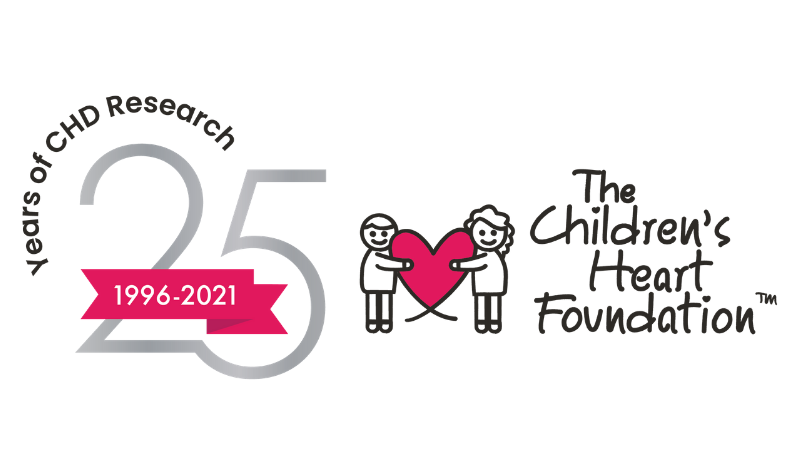 Northbrook, IL (April 25, 2021)--This year, The Children's Heart Foundation (CHF) is celebrating its 25th Anniversary of funding the most promising congenital heart defect (CHD) research! We are excited to announce the launch of our interactive 25th Anniversary campaign, which will run over several months virtually on our social media channels and website. Our supporters are vital to our mission, so we hope you'll join us during this historic year!
In the Foundation's 25 years, there has been incredible progress made for congenital heart disease patients. As the leading organization solely funding CHD research, CHF has funded nearly $14 million in research grants and scientific collaboration, leading to significant increases in survival, longevity, and quality of life for the 2-3 million Americans living with CHDs. 
The 25th Anniversary campaign will showcase the dramatic role research has played, highlighting breakthrough science and the researchers who led it. There will be many opportunities to virtually engage as we present new ways to pay tribute to heart warriors and angels, as well as how to become part of the foundation's volunteer legacy or a community champion or partner. 
As much as there is to celebrate, our 25th Anniversary is also a call to action. Each year, promising research goes unfunded due to the disproportionate lack of funding congenital heart disease receives given its prevalence. This means that the CHD community is still losing loved ones and left waiting for better treatment options. 
We are dedicated to advancing CHD survival rates, treatment and care, so that one day, all children born with CHDs can live long, healthy lives. You are vital in making this vision a reality. We'll share the many ways you can help the Foundation fund the most promising CHD research to further drive scientific advancements in the next 25 years!
We look forward to your participation as we celebrate The Children's Heart Foundation's 25th Anniversary. Together, we'll continue placing children at the heart of research.
To find out more and get involved visit: www.childrensheartfoundation.org/get-involved or email us at info@childrensheartfoundation.org.