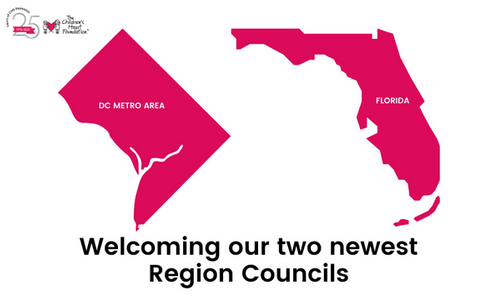 The Children's Heart Foundation has volunteer-led Region Councils in Colorado, Georgia, Illinois, Michigan, Missouri, New England, New York, Ohio, Oregon, Pennsylvania, Southern California, and Texas. We're excited to announce that we have added Region Councils in Florida and the DC Metro area!
Region Councils work to advance the mission of The Children's Heart Foundation by developing, executing, promoting, and supporting fundraising efforts and developing relationships with potential volunteers, donors, and sponsors. The Region Councils provide a local base of expertise that offer invaluable direction in the development of events and the building of relationships within the Region. We couldn't fund all the life-saving research that we do without our Region Councils.
Amy Hecht, a Heart Mom and leader of the Florida Region Council says, "Because of those that have come before me, the technology and research saved my baby. I want to continue that research and support for my heart baby and the heart babies to come. When I then learned that the Florida region needed to be restarted, I jumped in and I hope to find others that want to volunteer!"
Leader of the DC Metro Area Region Council, Jamie Teufel, has been involved with non-profit organizations that support families of children with CHDs since her son's surgery in 2012. "I'm grateful to The Children's Heart Foundation for funding congenital heart defect research, the results of which improves the lives of heart heroes like my son. I'm honored to represent the organization in the Washington, DC metro region," she said.
Want to find out more about volunteer opportunities or how to get involved with a Region Council? Email us at info@childrensheartfoundation.org.