Our Heart Story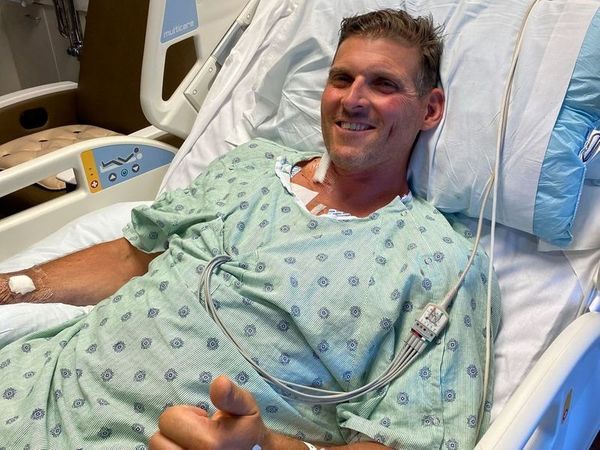 by Laura Sonaty
It was in the fall of 2019 when I first noticed the crazy banging. Laying on my husband Brian's chest, I asked him if he could feel what I was hearing. My description to him that night was that his heart sounded "bonkers," but of course any normal, healthy, in-shape 46-year-old man is going to think nothing of it, right? Right.  
At the end of January 2020 during a routine doctor's appointment, Brian's nurse discovered his resting heart rate was in the high 120s, his heart rate continued to stay elevated even though his blood pressure was perfect. The doctor was quite concerned and decided to order an EKG. Brian promised he would go straight to the emergency room. He went, and I met him at the hospital.  
During his time in the ER, we heard the words "atrial flutter" for the first time. We were also told that more testing was necessary. We first had an echocardiogram done locally, but we had decided pretty early on that we wanted a second opinion and further testing beyond those initial tests, and we chose to have that done at Northwestern Memorial Hospital. 
Our first day at Northwestern was a whirlwind of information. Brian was scheduled for a cardioversion the very next day to correct the atrial flutter. He also underwent an extensive echocardiogram, it was during this test the technician started asking scary questions. 
Why was she asking us if Brian had ever had cancer? What the heck was a bicuspid aortic valve? We looked at each other multiple times, completely nervous and wondering what was happening. I was just so thankful that this was in early March before Covid-19 completely changed hospital life, so I could still be in the room with him.  
We left Northwestern that day feeling worried, anxious, and downright scared of the unknown. The next day we went back for a cardioversion. Then came the real diagnosis. Brian's echocardiogram revealed his heart to be in failure, functioning at around 27 percent. It was enlarged, and he had a 5.7 cm aneurysm in his ascending aortic root. 
This was also when we learned Brian had unknowingly been born with a bicuspid aortic valve. The cardioversion, though initially successful to correct the atrial flutter, ultimately had not worked, so Brian was now experiencing atrial fibrillation. He would need open heart surgery.  
Once we started learning about everything, Brian realized he had likely been working through certain symptoms for a while. He did get fatigued and sometimes felt short of breath, but he always just pushed through.  
Open heart surgery was scheduled: June 17, 2020. We chose Dr. Chris Malaisrie at Northwestern Memorial Hospital to perform the surgery. Brian would need a Dacron graft to replace his aorta, and he would be having a maize procedure to cure the a-fib. His bicuspid valve would either need to be repaired or replaced, and an atriclip would be put in place to help prevent possible blood clots. It was a lot to hear, but the confidence we had in Dr. Malaisrie put us at ease and helped us face what was to come. 
Finding out Brian was born with a congenital heart defect was shocking to both of us. Along our journey, we learned the likelihood of having an aortic aneurysm is greater if you are born with a bicuspid valve, which means you are born with only two leaflets for your valve and not the standard three. We learned most people with aortic aneurysms do not learn of their condition until it is too late. Think of John Ritter or Alan Thicke...they both had aortic aneurysms that dissected. We learned my husband was lucky; we learned every day we have together is a gift!
…
We had become familiar with congenital heart defects, or CHDs, through the experience of my dear friend Lindsay, whose son Kane was born with two CHDs and passed away too soon at only 16-1/2 months. I wear a blue balloon tattoo reminding me every day to have joy in honor of Lindsay's sweet son.
Through our connection with Lindsay and Kane, we got involved with the Children's Heart Foundation and helped with its annual Hearts at Play event. Our son Cam volunteered, and even Brian himself came to help out in 2019. Never once in a million years did we think we would be affected by a congenital heart defect, too.
My point in sharing our story is to bring awareness for the need to be proactive with our health. We need to have more comprehensive annual physicals, starting with our children. We need to create the change.
As a child Brian played basketball and football. As an adult he worked out regularly, he was mostly disciplined with his diet, and had a career that is physically demanding. At the time of diagnosis, Brian thought he was in the best shape of his life—all the while not knowing he had a sick heart.
No one should learn at the age of 46 they were born with a defect in their heart. If we had known, the outcome of needing surgery would have likely been the same for Brian, but it is something we could have planned and managed. As it turned out, the threshold for surgical repair of an aortic aneurysm is 5 cm, so the fact that Brian's measured at 5.7 cm made our situation more critical.         
Wouldn't it be wonderful if an echocardiogram would just become part of a routine physical? Brian lived 46 years before his CHD affected him. If only we had known sooner, he would have been under a physician's care long before, had an echo been part of his routine physical.  
An echocardiogram is what saved Brian's life.  
…
As I write this, today is Sept. 17—exactly 3 months post open heart surgery. Brian's story was a success! His heart is now functioning at 65 percent, his aortic valve was repaired, his Dacron graft is perfect, and his heart is in a regular sinus rhythm. Recovery has been a process, but Brian has recently returned back to work as a Local 1 Chicago Ironworker. He is getting stronger and stronger every day…and for that we are so very grateful.  
To my Brian, you are my real life superhero…always and forever!