Olivia's Story
By: Danielle Pradas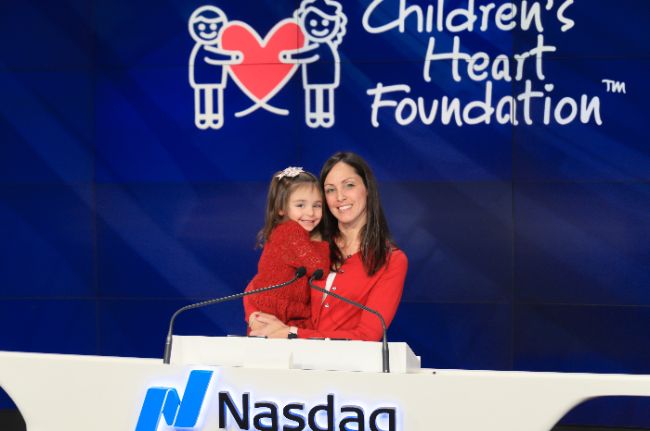 On April 15, 2015, my husband Joe and I welcomed our daughter Olivia into this world. Olivia was born with a complex congenital heart defect and had life-saving open heart surgery at 6 weeks old. Despite that she is currently living without a pulmonary valve, she is doing great. She is a sweet and sassy 4-year-old girl. She loves pre-school, ballet, and playing with her two brothers.
By looking at her, you would not know that she is missing her pulmonary valve, and if today's medical technology does not advance from where it currently is, she will need at least one more open heart surgery in her lifetime. We still do not know what caused Olivia's congenital heart defect or if there was a way to prevent it, but as I sit here today, I realize that we are the lucky ones. Olivia is here with us and she is thriving.
I became involved with The Children's Heart Foundation in 2016 after I realized how many children are faced with congenital heart defects and too many outcomes that are not as positive as Olivia's. Babies are dying and children are struggling with life-long medical issues that stem from CHDs. Through my work with The Children's Heart Foundation, I have met far too many parents who have lost their children and parents whose children are here with them now, but today's medical science simply cannot save them. 25% of babies born with complex CHDs will not see their first birthday.
The Children's Heart Foundation has been funding CHD research for over 20 years and since its inception, has funded more than $11.1 million of research. But we need to do more. Continuing to fund research will allow scientists to learn more about the causes of CHDs, finding more life-saving medical advancements, and discovering less invasive treatment options. The mission of The Children's Heart Foundation is crucial to the children born with CHDs and their families and the doctors and nurses that treat them.
Watch Danielle tell Olivia's story and ring the NASDAQ opening bell in the video below: