Why I'm Running the 2019 TCS NYC Marathon for The Children's Heart Foundation
By: Noah McBurnett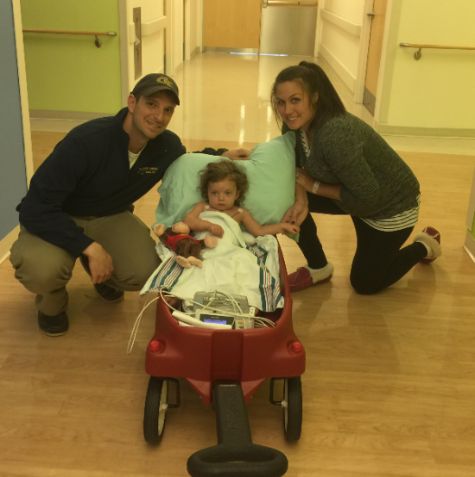 My journey with congenital heart defects (CHDs) started about 4 months into my wife's pregnancy with our first daughter. Charlotte was diagnosed with a CHD before she was born, but after a normal birth, her condition was monitored for the first year of her life.  During the pregnancy and first year and a half of Charlotte's life, I was serving as the head engineer officer on a US nuclear submarine, conducting deployments several times in this period.  When Char was 18 months, I transferred to shore duty and a more stable home life.  This was when we found out Charlotte's condition was going to require open heart surgery to repair.  We were fortunate to have Wolfson's Children's Hospital near us in Jacksonville, FL. The team did excellent work with Charlotte and she recovered like a champion, walking out of the hospital on her own after 5 days. Charlotte is my hero. After 2 and a half years of follow-up Charlotte is doing excellent. She still has some genetic heart issues that are prevalent in the women on my wife's side of the family, but they are all doing great and have no limitations. 
As I advanced in the Navy, my physical health started taking a back seat.  With more responsibility, longer hours, and spending any free time I could with my new family, I started to fall down the standard American path to heart disease.  At 6'3" my weight was nearly 250 lbs, my blood pressure was starting to elevate, my cholesterol was not good and I was barely able to pass the Navy physical fitness testing.  While Charlotte was in the hospital, I decided that the rest of my life had to be dedicated to living a heart healthy lifestyle.  Charlotte needed a role model, not someone telling her to do as I say not as I do.  After much research and reflection, I decided to go plant based, take up running and triathlon, and be committed to being a lifelong learner about health and fitness, especially as it related to heart health. During the last 2.5 years I have gotten my weight steady around 190 lbs, an excellent blood pressure, and have excellent blood work according to my doctors.  I have participated in many triathlons and road races, this year I have two half-iron man distance events and several marathons. 
During this journey, both my wife and I have committed to a plant based lifestyle, as has many of our extended family.  Charlotte is four years old and full of life.  She has a personality that fills any room she is in, bringing joy to all those around her...most of the time! Her little sister idolizes Char, mimicking her in every way possible. Our experience with CHD has truly made both our immediate and extended family healthier and helped bring awareness to those less fortunate than us.  We are committed to helping families in similar situations and helping to raise awareness for CHDs wherever it may be. 
I am so honored to be running the 2019 TCS New York City Marathon to raise money for CHD research in a race that is part of my earliest memories as a child growing up in NYC. Three years ago I would have never thought I could do this race, but with Charlotte as my inspiration, I have turned my life around.
Visit Noah's 2019 TCS NYC Marathon fundraising page here.