Jasper's Heart Story
By: Chris and Becca Johnson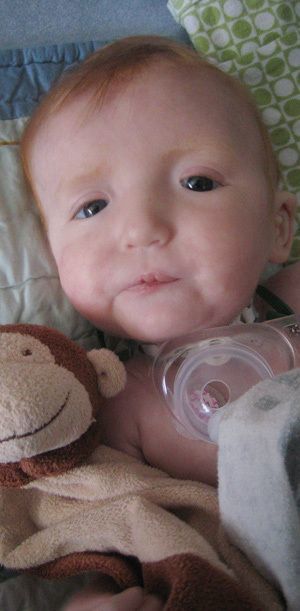 Our first born son, Jasper, meant the world to us. As parents, we wanted the very best for him. We were devastated to learn during a routine ultrasound that there was something wrong with his heart. At his birth, mom remembers waiting for that first cry, which didn't occur, but due to the efforts of the multiple medical teams present, they brought life back to him, then whisked him to the pediatric cardiac ICU.
He was an old soul with fiery orange hair who loved taking walks in the stroller and quiet, simple moments lying next to mom and dad.  Before he was born, we knew he would have many struggles, as there is no cure for CHDs, but we held onto hope. 
Being born with multiple CHDs required several open heart surgeries, heart catheterizations and long months in the hospital. While we were fortunate to have some of the best medical professionals in the world on his team, ultimately his heart could not go on, and he passed away two days shy of 15 months old.
CHD research is very important to our family as it is a way we can remember and honor Jasper. The days we had with our son were precious and we savor every memory. We have been fortunate to have three children since losing Jasper: Reece, Zoe and Dax, all who are proud to be part of CHF fundraising. Jasper's youngest brother Dax who is 6, has been a participant in the CHF funded fetal brain project since he was in utero, and we are looking forward to the next step in the project.
We have seen amazing research in the past 11 years since Jasper's passing and we look forward to seeing the great work that lies ahead. We know that these advances in research translate to longer, better quality of loves for those afflicted with CHDs.