Duncan's Story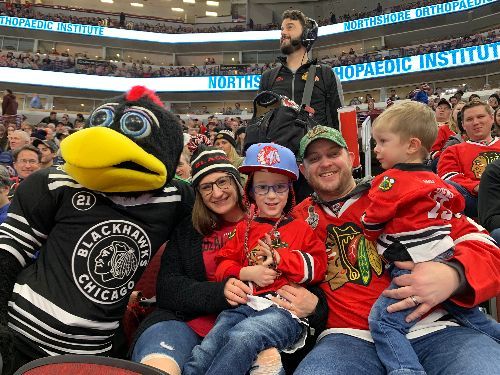 By: Amanda Kero
Duncan Stanley Kero was born on October 9, 2015 at Loyola in Maywood. We knew prenatally that he had a complex congenital heart defect called Tetralogy of Fallot. We also knew he would require some NICU time, though it wasn't clear exactly how long he would be hospitalized after birth. We were told it would depend on whether he was born "blue" or "pink". We tried to stay optimistic and hoped he would be in the "pink" category. Thankfully, Duncan was born a "pink" Tet. We were as happy as parents could be, having a child with a severe CHD. 
Things quickly changed after birth though, and Duncan's health was worse than anticipated. It turns out that "blue" and/or "pink" did not matter. He was transferred to Lurie's Children's Hospital after just five days. Our hearts dropped. He was in critical condition. That's when we knew that this was much more serious than we originally thought, and we quickly learned that CHDs rarely go according to plan or as anticipated. 
Duncan settled into Lurie's NICU where he spent the next six weeks, four of which he was intubated. He battled pneumonia on top of his ToF. We also received the confusing diagnosis of Scimitar Syndrome, a rare association of congenital cardiopulmonary anomalies. We were on information overload.
Duncan was discharged shortly before Thanksgiving with an NG feeding tube to help him gain weight for his upcoming open heart surgery. 
His first open heart surgery on April 4th, 2016, and stayed in Lurie's CICU for 19 days before coming home. We were relieved that all went according to plan, despite his complicated anatomy, and that they were able to salvage his pulmonary valve. We were again optimistic that his next surgery would be sometime in the future to replace said valve. 
We were thinking years.
Again, things did not go as planned and Duncan had his second OHS less than a year later. It was a revision of the baffle to his anomalous termination of right pulmonary vein and partial anomalous pulmonary venous connection (PAPVC), due to his Scimitar Syndrome. This was on February 14, 2017 –Valentine's Day, the irony was not lost on us. 
On New Year's Day, 2018, we flew to Boston to try a different intervention for the same PAPVC that, again, didn't respond to surgery. His right lung function was all but gone at this point due to his pulmonary veins. The intervention went well, but ultimately failed –again. This definitely was not in the plan.
Most recently, Duncan had his third OHS on February 13, 2019 to replace his pulmonary valve and repair his tricuspid valve (His valve replacement was much sooner than originally anticipated due to the Scimitar Syndrome). Surgery went well and he was home in a record-breaking four days! While Duncan's right lung remains small and the function is low, it does not slow him down. He loves school, playing with his big brother, and t-ball. 
We are learning time and time again that congenital heart defects do not follow "plans" or "expectations". Each child is so different and that is why we feel strongly that more research is necessary for these kids. We will try and do everything we can to give Duncan, and all kids with CHD, a fighting chance.
We never thought we would be at three surgeries in three years. We also didn't know if Duncan would ever graduate out of therapy, but he is! Slowly, he is catching up to his peers and continues to surprise us daily.