Living a Full Life with Half a Heart
By: Cortney Barnett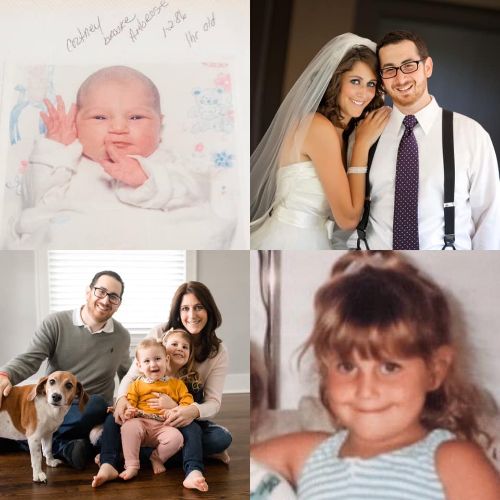 I love fireworks, movie theater popcorn is my favorite snack, and my daughters are my whole world. I dislike pure chocolate (I know, I'm crazy) and rollercoasters freak me out. I more than love my husband, I have amazing friends, and I promise I have the best family in the entire universe. I am a picky eater, I have several complex congenital heart defects, I graduated from Michigan State University (go green!) and I was a special education teacher for seven years. I am currently a stay at home mom, and I absolutely love to travel. That is pretty much my life in a nutshell!
Shocked? Confused? I know, it seems odd that my complex congenital heart defects are right in the middle of being a picky eater and the fact that I graduated from MSU. Believe it or not, that is how I view my defects. They are simply part of who I am and what makes me, me! My CHDs include: HypoPlastic Right Heart Syndrome, Double Inlet Left Ventricle, Transposition of the Great Arteries, Coarctation of the Aorta, Patent Ductus Arteriosus and Atrial Septal Defect. 
I had my first closed heart surgery at 2 months old. I had my second closed heart surgery at 4 months old. I had my first open heart surgery, the Fontan procedure, in 1988 when I was 2 and a half years old. And I had my second open heart surgery at Mayo Clinic in Minnesota when I was 8 years old. Due to atrial flutter, I had an ablation when I was 23 years old. And due to the state of my heart, I now have Fontan Associated Liver Disease. That is a fancy way of saying that I have liver cirrhosis that continues to worsen by the minute. So, basically, my life has been a rollercoaster (and I already explained above how much I dislike rollercoasters!). 
Constantly feeling my heart do weird things, knowing my heart is causing my liver to worsen every day, waiting for the day my adult congenital cardiologist (Dr. Norris at the University of Michigan) tells me that a heart and liver transplant is close, and explaining my sick heart to my daughters has not been a breeze. But, being able to focus on the positives in my life, and not making my defect the definition of who I am, has made me enjoy life to the fullest. I went to sleep away camp in elementary school, I competed in dance in high school, and I backpacked around Europe when I was in college. I never let anything stop me.
Falling in love, getting married and having children was always something I dreamed of. When it came to these dreams, I continued to not let anything stop me. My husband, Seth, and I met in college, dated for six years and then got married in 2011. We had our two, sweet-as-pie, daughters (Rosie - 5 years old and Summer - 2 years old) shortly after that. Before we even got married, we met with my adult congenital cardiologist (at the time it was Dr. Warnes at Mayo Clinic) to discuss having kids. We came to a decision that we would try gestational surrogacy (biologically our baby, a woman would be our carrier). Although this could have been devastating for us, it turned out to be so amazing and truly special. We found the most incredible, loving, generous, selfless woman to carry our first daughter. And she even agreed to carry our second daughter two years later! Although our surrogacy journey was quite a rollercoaster (here we go with the rollercoasters again!), with multiple egg retrievals and several failed IVF cycles, we feel insanely lucky. We love our surrogate and her family so much. We are beyond thankful for them and for our medical miracles.
Although CHD life can be terrifying, exhausting and unfair, I can't help but be grateful for the life I live. Which brings me to the reason I got involved in the CHD community in the first place - Unfortunately, for me, CHD research has not come far enough yet. My health is at a stand still. If a new procedure, medical device, or medication is not tested very soon, my only option would be a heart and liver transplant. And currently, there are not many hospitals that will even attempt a heart and liver transplant. I know that many children and adults are in a similar position as me. My goal, honestly one of my top priorities in life, is to help spread CHD awareness and, most importantly, fund CHD research.
I am involved in The Children's Heart Foundation and have helped plan the Detroit Congenital Heart Walk for the past nine years. I truly believe that the research that is being funded, the research that is happening right now, could help save my life, and the lives of millions of other children and adults in our lifetime. When I was born, kids with my heart defects were not living into adulthood. Believe it or not, adult congenital cardiology is a new field in the medical world. Now that more children are living into adulthood, it is imperative to fund research. It will give CHDers, like me, less severe and less invasive options before jumping right to transplants. New technology such as stem cells, 3D printing, and heart pumps are currently being tested. This is what gets me excited, this is what helps me stay optimistic, and this is what keeps hope alive.
Think about it  - if we don't collect donations, we don't fund research. If we don't fund research, we don't have hope. And what do we have if we don't have hope? Thank you from the bottom of my half-a-heat (pun intended!) for reading my story. Please reach out on Facebook or Instagram anytime! You can find me @thisismewithchd. Cheers to all of the CHD warriors and angels out there - my heart is with you!