Baby "HurriKane"s Brave Battle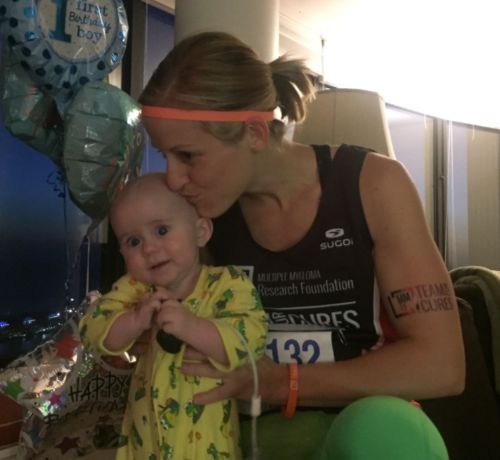 By: Lindsay Bartels O'Brien
Baby Kane, also known as "Baby HurriKane", had a smile that lit up the world.  Kane enjoyed exercising in the park, doing "up downs" (squats), and he giggled the entire time when I held him during stair running workouts. He also participated in two 5ks and was THE best training partner for the Chicago marathon. Some people told me he didn't have a choice, since he was born into a "running" family, however, I told him "If you are going to wake up at 4am every day, we are going to get our work out in" – I think we both won.
During the summer of 2017, Kane spent 4 months outside of the hospital and we lived like Chicago tourists. We visited the park every day, he learned to play the keyboard, swim, eat cornbread and avocados, watched fireworks, attended two White Sox games, visited Buckingham Fountain weekly, weekday Festivals and movie nights at Maggie Daley park, saw the "fishies" swim at the Shedd Aquarium, and celebrated his first birthday among family and close friends. We lived, laughed, and loved on the deepest level that summer, because we didn't know how many summers we would have together. That is the reality of CHD - each day is a true blessing; We feared the future and all of the unknown.
At first glance, you would never know that Kane was battling to stay alive. He didn't "look sick"; in fact it was the opposite. He smiled through all of his physical ailments. Kane was born with a cleft mitral valve and AVSD, both Congenital Heart Defects (CHDs). Except for that one summer, we spent most of Kane's 16.5 months of life at Rush University Medical Center in Chicago, IL and Boston Children's Hospital in Boston, MA. In January 2017, we learned that after his 5th open heart surgery, he suffered a traumatic brain injury, one of the complications that can happen while on the heart/lung bypass machine. Kane passed away on January 16th, 2017.
We will never give up hope that medical research can advance to a point where children no longer die of open-heart complications. In fact, one of Kane's doctors from Boston Children's received funding from The Children's Heart Foundation and is working on a treatment right now, that could help avoid traumatic brain injuries in babies who have to have open heart surgery (watch a video related to this here).
We remain encouraged that the funding from The Children's Heart Foundation can offer advancements where children will no longer require open heart surgeries to stay alive - Surgery, and transplants do not offer "cures" or life-long "fixes". We support The Children's Heart Foundation because we wouldn't have had that summer and 16.5 months with Kane without modern day CHD medicine and medical advancements. We also support The Children's Heart Foundation because we know there is still much work to be done and we never want other families to experience the loss ours did. Our wish is for families to have more hope than fear, and more summers together.
We are so grateful for the time we had with Kane. He taught me and so many others how to love, live, and fight. He was and forever will be my greatest teacher.
Watch Lindsay talk about why she supports CHD research: