Austin's Story
By: Anne Witte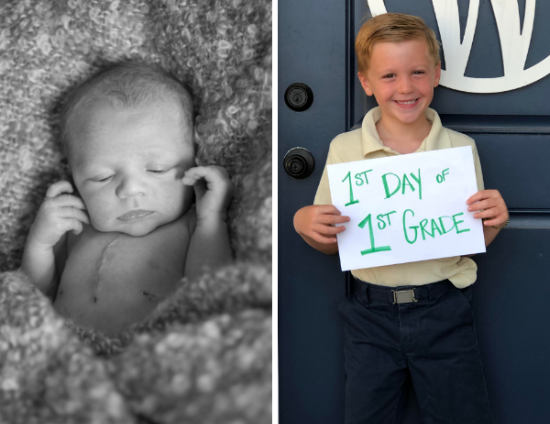 Our second son, Austin, was born with a congenital heart defect, TGA (Transposition of the Great Arteries). We were unaware of his condition until he was born.
The moments and days that followed his birth were some of the hardest moments of my life. When he was born, his color was very grey. The doctors became very concerned very quickly, and he was taken away so that they could better understand what was wrong. After two different hospitals and two ambulance rides, he was admitted to St. Louis Children's Hospital and had open heart surgery at 6 days old. 
Watching your new born baby connected to multiple machines to help them live, not being able to hold him right away, is something no parent should have to endure. One of the hardest things I've ever had to do was say goodbye to my newborn baby before surgery. We feel very blessed that Austin's surgery was successful. We are forever grateful for nurses and doctors who cared for our son during this critical time. They saved his life. 
Austin is now a happy 6 year old who loves life. We see his cardiologist on an annual basis to monitor his growth and progress. Our experience with Austin has really opened our eyes to the world of CHD and it's impact to children's lives. I have felt compelled to share his story in hopes to spread awareness of CHDs  to help other families. Our hope is that by funding more research, advancements in treatment can improve and prolong the lives of those impacted by CHDs.