Adam's Story
By: Tamara Thomas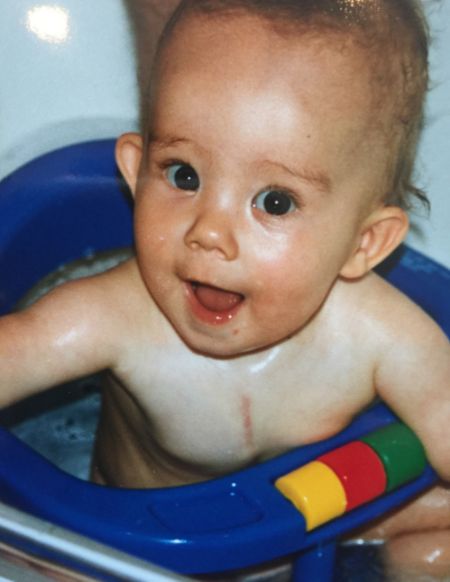 Adam was born a beautiful, but very sick little boy. He came into the world on Tuesday Jan 12th, 1995 at 11:54 am. Adam was whisked away from us quite quickly after he was not able to breathe. We did not get to hold him. 
After a perfect pregnancy and being a very healthy person, being surprised was an understatement. But, we knew to put our faith in God and the medical professionals and kept our chins up. Adam's delivery had been a difficult one, and I was in for a long recovery. Scott and my Dad followed Adam's ambulance to Children's Hospital, about 8 miles away. 
At Children's Adam was diagnosed with severe congenital heart disease, with the most pressing defect being pulmonary stenosis. The doctors decided to perform a balloon valvulotomy, which was an experimental procedure at the time, to save his life, hoping to not have to do immediate open heart surgery. Before I was able to get to the hospital the next morning, the procedure was completed. I arrived, seeing Adam in bed #23 out of 28 beds in the NICU.  We stayed with Adam there for 10 days, until he was able to go home.
After being home for 4 days, Scott's mom, came over one evening after not seeing us for 2 days.  She knew immediately that Adam had to go back to the hospital. That night, Adam was placed on a ventilator in the PICU, where he would stay for 25 days. Adam needed a cricoid split, to surgically open his airway, as his trachea had developed scar tissue from his initial ventilation. Adam was medically paralyzed and sedated the whole time, while his throat healed from surgery. It was a very difficult time, but Scott and I vowed to stay positive every day. Scott had returned to work, but came to the hospital before and after work each day. I had my mom and Scott's mom with me most days and was pumping every day so that Adam could get my breast milk through his feeding tube.
We were able to go home at the end of February. In May, at Adam's checkup, the doctors determined that Adam needed surgery that week. Adam had a cold - I was very worried - but we knew we had no choice. Adam has open heart surgery on May 24th, 1995. The process to get Adam off the ventilator was long and difficult, but we all persevered. Scott was amazing with understanding everything the doctors relayed to us, and asked many great questions.
We noticed that as Adam was healing, his sternum was "clicking" and had not healed together correctly. The doctors confirmed, and decided to wait until Adam's next surgery to fix that. Adam started completing normal baby milestones and starting growing and smiling - it was heaven. 
At nine months Adam had another Cath and at 14 months old, in March of 1996, Adam had a second open heart Surgery. This time, the doctors patched a large hole in Adam's heart, a severe Ventricular Septal Defect, which our cardiologist said was the first time in his 25 years of practice that the VSD had been completely undetected during the first surgery, because Adam's right ventricle was so hypertrophied. 
After 20 years without an Pulmonary valve, in October 2017 Adam underwent his third open heart surgery as a 22 year old. After a successful procedure and 5 days in the hospital, Adam now has a functioning valve! We are very proud of his attitude and work ethic during his time of recovery and are grateful for the medical care and the research that provided this path for Adam, and all those like him!