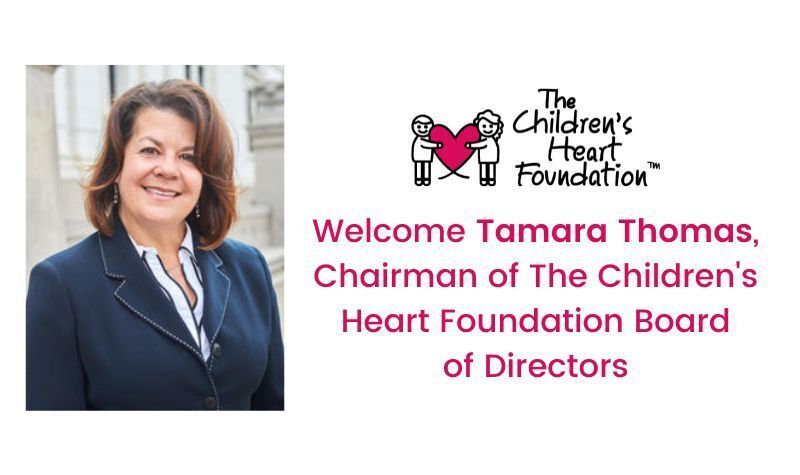 We are proud to welcome Tamara Thomas as the new Chairman of The Children's Heart Foundation Board of Directors. Tamara is a longtime volunteer and supporter of The Children's Heart Foundation and has held leadership roles at both the Board and local levels.
As a 1990 graduate of Miami University, earning a BS in Organizational Behavior in the Farmer School of Business, along with a minor in Economics, Tamara began her career with Bank One in Columbus, Ohio. Joining the Leadership Training team, she gained experience and excelled in her positions in retail, corporate banking, and business lending. In 1993, Tamara received her MBA in Finance from Capital University, and continued additional studies in Financial Planning, earning her Series 6 License.
In 2007, Tamara, along with her husband Scott, joined the newly formed council of The Children's Heart Foundation's Ohio Region and eventually became the Region's executive leader. She began serving on CHF's Board of Directors and Executive Committee in the Chapter Liaison capacity in 2010. In 2014, she became Chairman of CHF's Board of Directors, guiding the organization through an Executive Board transition and creation of a new Strategic Plan for the organization after an 18-month planning process with a terrific team of volunteers. Tamara also works in her family business at Buckeye Automotive, an industry leader as demonstrated by Buckeye Honda achieving its 20th president's award in 2022, in the top 1% of the automotive industry.
Tamara is also a proud Heart Mom to Heart Warrior Adam and is deeply passionate about The Children's Heart Foundation's mission: to advance the diagnosis, treatment, and prevention of CHDs by funding the most promising research. To date, the Foundation has funded $16.5 million of CHD research and scientific collaborations that are helping to give longer and better lives to everyone living with congenital heart defects.
On Tamara taking on the role, our immediate past Board Chairman, Kevin Slawin says, "I've worked with Tamra for a long time - some of which was when she was Chairman of the Board in prior years. CHF is very fortunate that she has agreed to lead The Children's Heart Foundation once again. With her strategic focus and passion for our mission I am confident we will continue to grow our funding for the most promising CHD research."