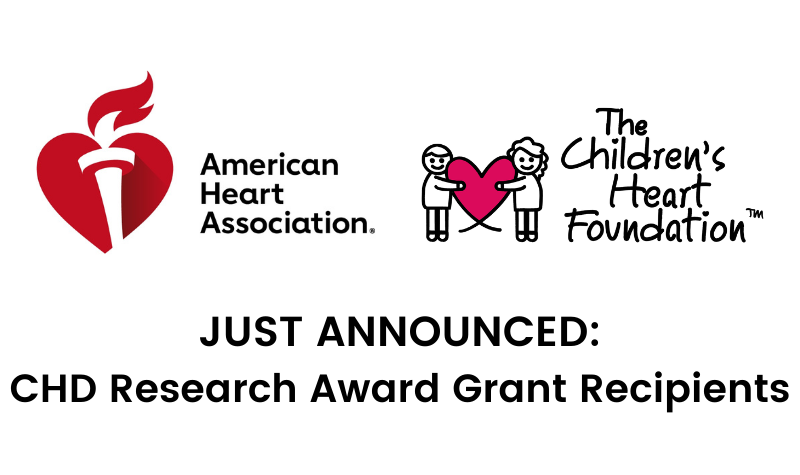 The American Heart Association and The Children's Heart Foundation fund new research focusing on congenital heart defects at Boston Children's Hospital, Stanford University, MIT, Mount Sinai Hospital and the University of Chicago
DALLAS, Feb. 14, 2022 – More than $625,000 in research grants devoted to congenital heart defects (CHD) were awarded today by the American Heart Association, the leading voluntary health organization devoted to a world of longer, healthier lives, and The Children's Heart Foundation, the nation's leading organization dedicated to funding CHD research. The jointly funded grants will be distributed among five research projects nationwide.
Nearly 2.4 million children and adults live with a congenital heart defect (CHD) in the U.S.[1] and more infants with congenital heart defects are surviving into adulthood[2]. This is largely due to advancements made through ongoing research, which is critical.  
This is the ninth round of the co-funded Congenital Heart Defect Research Awards program. The American Heart Association and The Children's Heart Foundation have pledged a total of $14.3 million to fund CHD research over 10 years.
The new grants have been awarded to:
Mohammad Arafat Hussain, Ph.D. at Boston Children's Hospital for work in accelerated brain aging and neurocognitive outcomes in adolescents and young adults with congenital heart defects.
Markus Horvath, Ph.D. at Massachusetts Institute of Technology – MIT in Cambridge, Massachusetts for work on high fidelity respiratory and flow models of the Fontan physiology to investigate strategies of circulatory support.
Tri Nguyen, Ph.D. at Stanford University School of Medicine in Stanford, California for work in deciphering the function of CHD genes by mapping them to pathways activated during endothelial cell differentiation.
Tasneem Ebrahim, B.A. at Icahn School of Medicine at Mount Sinai in New York City for work in the role of retinoic acid in cardiac progenitor specification.
Joshua Theisen, M.D., Ph.D., The University of Chicago for work in the role of FOXF1 gene as a differentiation timer for cardiac development
"Congenital heart defects are the most common birth defect in the U.S., and by directly funding research in this field, we are investing critical resources for more children to survive into healthy adulthoods," said Donald M. Lloyd-Jones, M.D., ScM, FAHA,  president of the American Heart Association and chair of the department of preventive medicine at Northwestern University Feinberg School of Medicine in Chicago. "The Association and the Children's Heart Foundation share common priorities in congenital heart defect research investment. Supporting innovative research saves and improves the lives of children and adults with these conditions, and that is of utmost importance to us."
Nearly 40,000 infants are born with congenital heart defects each year in the United States. About 25% of babies born with a CHD require invasive surgery or treatment in their first year of life.[3] Research that helps healthcare professionals understand, identify and treat CHDs is helping these babies live longer, healthier lives. While medical advancements have improved over the years, many of these children and their families still face a lifetime of challenges. As many more of these children are now becoming adults, much still remains to learn about life with congenital heart defects.
"Through this partnership and our ongoing commitment to funding research, we're making a lasting impact on the lives of CHD patients and their families," said Gail Roddie-Hamlin, president and CEO of The Children's Heart Foundation. "These new research projects will help bring innovative solutions to improve survival rates and care for individuals living with CHDs."

Scientists who are conducting research to advance knowledge for prevention and treatment of congenital heart defects are encouraged to submit applications for the next round of funding. For more about the American Heart Association and The Children's Heart Foundation's Congenital Heart Defects Research Awards, including deadlines for submitting proposals, please visit www.professional.heart.org/CHDResearchAwards.
Additional Resources:
To learn more about congenital heart defects, visit heart.org/CHD
For support for parents of young children diagnosed with CHDs or adults living with the impact of a CHD, visit SupportNetwork.heart.org

###
[1] https://www.ahajournals.org/doi/10.1161/CIRCULATIONAHA.115.019307
[2] https://www.ahajournals.org/doi/epub/10.1161/CIR.0000000000000950  Page 297 - Chart 16-1
[3] Virani SS, Alonso A, Aparicio HJ, Benjamin EJ, Bittencourt MS, Callaway CW, Carson AP, Chamberlain AM, Cheng S, Delling FN, Elkind MSV, Evenson KR, Ferguson JF, Gupta DK, Khan SS, Kissela BM, Knutson KL, Lee CD, Lewis TT, Liu J, Loop MS, Lutsey PL, Ma J, Mackey J, Martin SS, Matchar DB, Mussolino ME, Navaneethan SD, Perak AM, Roth GA, Samad Z, Satou GM, Schroeder EB, Shah SH, Shay CM, Stokes A, VanWagner LB, Wang N-Y, Tsao CW; on behalf of the American Heart Association Council on Epidemiology and Prevention Statistics Committee and Stroke Statistics Subcommittee. Heart disease and stroke statistics—2021 update: a report from the American Heart Association [published online ahead of print January 27, 2021]. Circulation. doi: 10.1161/CIR.0000000000000950