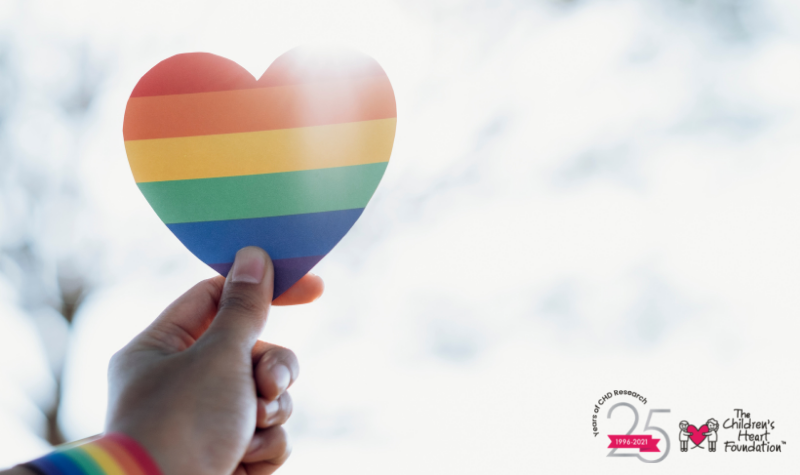 Happy Pride Month! We're proud to celebrate the LGBTQ+ community and encourage LGBTQ+ families to join us in supporting and growing our mission!
The mission of The Children's Heart Foundation is to advance the diagnosis, treatment, and prevention of congenital heart defects (CHDs) by funding the most promising research. Our hope is that ALL children impacted by CHDs can live long, healthy lives. We recognize that CHD families span across all races, ethnicities, genders, religions, ages, languages, sexual orientations, national origins, and physical and cognitive abilities. Because of this, we proudly celebrate diversity and recognize the need for representation and anti-racist efforts to achieve equity within The Children's Heart Foundation and the field of congenital heart defect research.
We pledge to work to create a more inclusive and equitable foundation for CHD patients, their families and caregivers, and CHD researchers. And we are committed to ensuring that our research efforts and dollars support addressing CHD health disparities and CHD researchers from underrepresented groups.
So, join us! Whether you're interested in our Diversity, Equity, and Inclusion efforts, want to participate in or volunteer at a Congenital Heart Walk, join in our early advocacy efforts, or spearhead a fundraiser in your community, we welcome involvement from anyone and everyone, anywhere!
To get started, visit childrensheartfoundation.org/get-involved/ or send us an email: info@childrensheartfoundation.org. To find a Congenital Heart Walk near you and to form a team, visit: give.childrensheartfoundation.org