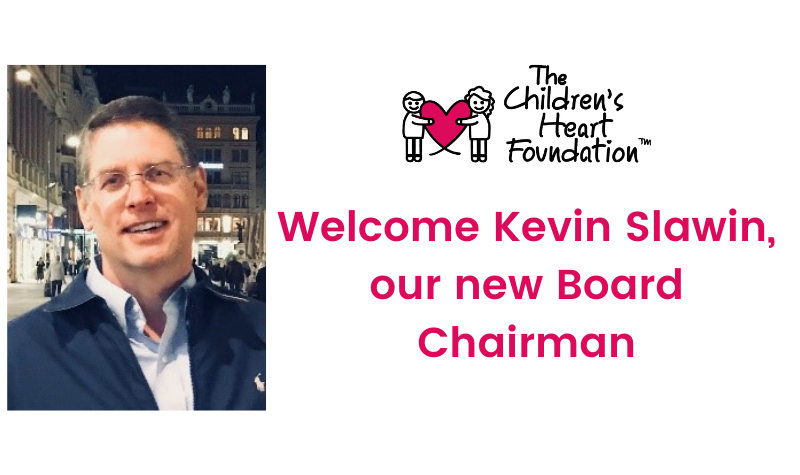 We are honored to welcome Kevin Slawin as the new Chairman of The Children's Heart Foundation Board of Directors. A longtime member of The Children's Heart Foundation Board, Kevin is the President and CEO of Trustmark Mutual Holding Company, a national employee benefits provider.
Kevin has more than 30 years of financial services experience across a number of executive roles. He currently serves on several respected industry boards, as well as the board of the United Way of Lake County, IL. Kevin earned his master's degree from the Kellogg Graduate School of Management at Northwestern University and his bachelor's degree from the Kelley School of Business at Indiana University.
Kevin had open heart surgery when he was a young child and credits groundbreaking congenital heart defect (CHD) research as the reason he is alive and healthy today, 50 years after his surgery. For this reason, he is passionate about The Children's Heart Foundation's mission: to advance the diagnosis, treatment, and prevention of CHDs by funding the most promising research. To date, the Foundation has funded nearly $14 million of CHD research and scientific collaborations that are helping to give longer and better lives to everyone living with congenital heart defects.
On Kevin taking on the role, our immediate past Board Chair, Martha Hauber, says, "Kevin's strategic focus, thoughtful insight, and passion for the cause make him imminently qualified to lead The Children's Heart Foundation as we celebrate our 25th year as the premier funder of CHD research."
Founder of The Children's Heart Foundation, Betsy Peterson, said, "Kevin has been a longtime supporter of The Children's Heart Foundation and I could not be more pleased to see him take on this role. I know that under Kevin's leadership, we will accomplish great things!"