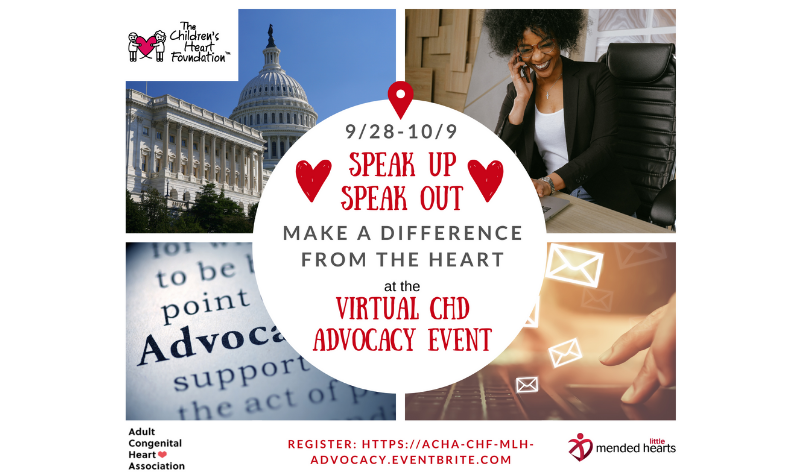 With World Heart Day coming up on September 29, those affected by congenital heart disease (CHD) are speaking up, speaking out, and making a difference from the heart by sharing our voices, our stories, and some important facts to:
Raise awareness of CHD across the lifespan and the need for specialized lifelong CHD care.
Ask that the Congenital Heart Futures Reauthorization Act be fully funded for CHD research and surveillance across the lifespan.
Ensure that patients of any age who have CHD have equal and affordable access to telemedicine, where appropriate.
The Adult Congenital Heart Association, The Children's Heart Foundation, and Mended Little Hearts have come together to host this Virtual CHD Advocacy Event from September 28 to October 9 to make it easy for you to have a voice and make a difference for CHD patients and families. You can participate by:
Joining our automated email campaign. We will provide you with two links – one for your Federal legislators and one for your State legislators. Once you give key information, you will be able to add some of your story to an email containing key messages, and we will send it to your Congress Members, Governor, and State Legislators. It's super easy and can make a HUGE impact. We hope to get emails to policy makers from all 50 states.
Calling your federal and state policy makers. We will provide you with key talking points and "asks"; you provide your story. We will give you simple instructions for making these calls.
Writing emails to those who may not have been reached with the automated email campaign. Again, we will provide instructions for finding the contact information of your policy makers and an email template you can customize with your story.
Your voice matters, and there is power in numbers!! Register today at https://acha-chf-mlh-advocacy.eventbrite.com, and you will be provided with all of the information you need to help us make a difference for children and adults living with CHD and those that love them.