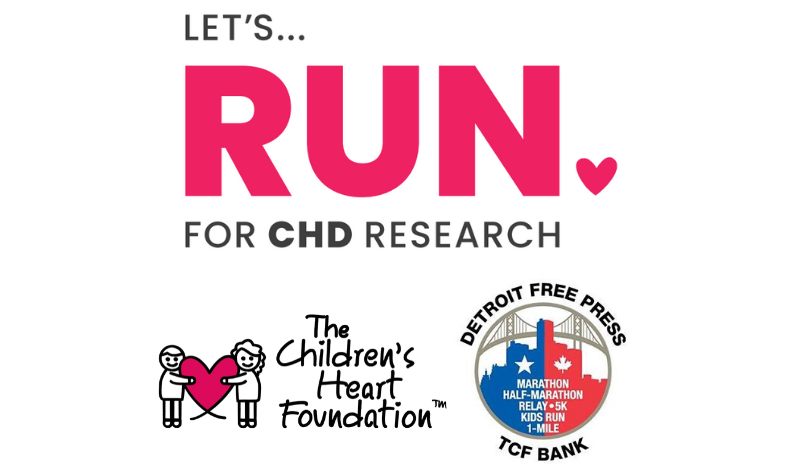 The Children's Heart Foundation is proud to be an official Charity Partner of the 2020 Detroit Free Press/TCF Bank Marathon! 
The Detroit Free Press/TCF Bank Marathon is our latest fitness and endurance fundraising event, joining the TCS New York City Marathon and the Los Angeles Marathon/Charity Challenge, and our goal is to raise over $25,000 for critical CHD research! Runners on our team will have the opportunity to earn exciting fundraising incentives, and will receive a team singlet to wear on race day! (an alternative shirt will be provided for Kids Fun Run participants). We'll also support you throughout your training, share fundraising tips to motivate you and provide inspiring team showcase stories for each team member!
We're building our biggest running team yet, with available spots on our 2020 team across five exciting events taking place! 
Full Marathon – 10 spots/$400 fundraising commitment
International or U.S. Half-Marathon – 10 spots/$300 fundraising commitment
Marathon Relay – (5-person team)/5 teams, $1,000 team fundraising commitment (*For Marathon Relay, the team captain should complete the application on behalf of the team)
Competitive Mile – 10 spots/$200 fundraising commitment
Kids Fun Run – 10 spots/$75 fundraising commitment
By running and fundraising for our team, you are supporting our very important mission: to advance the diagnosis, treatment, and prevention of congenital heart defects (CHDs) by funding the most promising research.
Click here to apply to join The Children's Heart Foundation's team and to support our mission! We look forward to hearing about why you want to run for The Children's Heart Foundation and how you'll raise funds for critical CHD research!  
APPLICATION DEADLINE EXTENDED! Applications must be submitted by Sunday, April 26th at 12:00 pm CT. 
Already registered for the event but want to raise funds for CHD research, earn a team singlet and be part of our team? Please submit your application and indicate that you've already got a spot in the event.