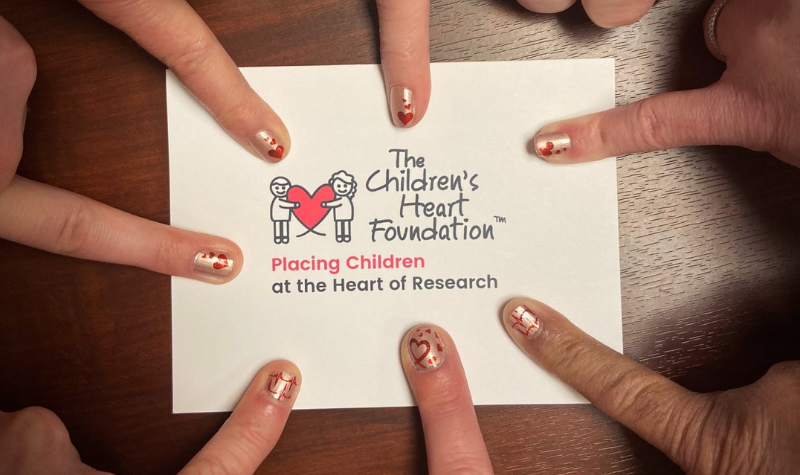 NORTHBROOK, IL – Color Street, a company offering nail art designs, has raised $50,000 for The Children's Heart Foundation, a national nonprofit whose mission is to advance the diagnosis, treatment, and prevention of congenital heart defects, or CHDs, by funding the most promising research. 
During the month of February, which is recognized as Heart Month, Color Street sold limited edition "Helping Hearts" nail sets, with $2 from each sale benefiting two heart-centered charities—The Children's Heart Foundation and WomenHeart. This month, Color Street has announced the company met its goal of raising $50,000 for each charity. 
"Thanks to the dedication and enthusiasm of our Stylists, Customers and Home Office Team, we are happy to be able to contribute to the important work of The Children's Heart Foundation, funding vital research and offering hope to families and their heart warriors," said Tricia McNamara, Executive Director of Color Street Foundation.
Color Street's fundraiser will support The Children's Heart Foundation's efforts to fund groundbreaking research that improves and extends the lives of children born with CHDs. Congenital heart defects are the nation's most common birth defect, impacting 40,000 babies every year. More than 25 percent of those newborns will need at least one invasive surgery in their first year of life to survive, and many require more throughout their lifespan. 
"The Children's Heart Foundation is grateful to Color Street for this opportunity to raise much-needed funds and awareness for CHD research," said Barbara Newhouse, President & CEO of The Children's Heart Foundation. "We appreciate everyone who generously supported the fundraiser, as Color Street's donation will have a direct impact on our ability to fund scientific research that will make life-saving differences for CHD patients everywhere."
Founded in 1996, The Children's Heart Foundation has funded more than $13 million of CHD research and scientific collaborations.