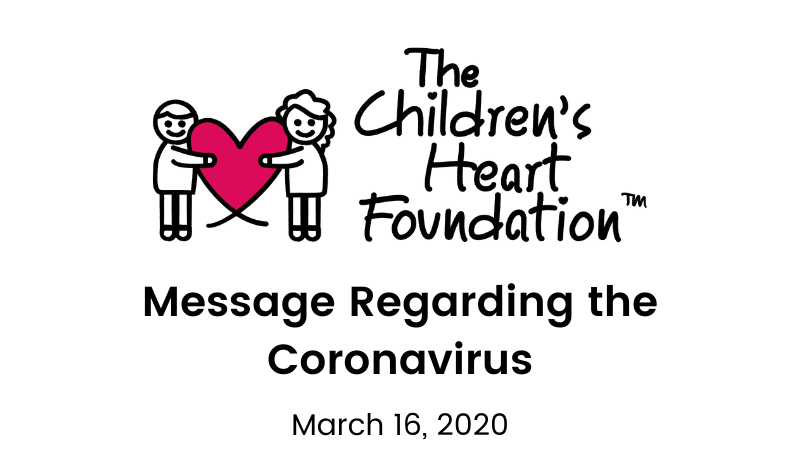 Dear Children's Heart Foundation Families, Donors, and Supporters,
We, at The Children's Heart Foundation, have been diligently monitoring the COVID-19 (Coronavirus) situation and have important updates regarding our spring Congenital Heart Walks and other events to share. Ensuring the health and well-being of our heart community is our greatest concern, and we want to do everything we can to keep you, your family, and the broader community safe.
For this reason, and based on CDC recommendations, we are working to reschedule our earliest spring events, including Congenital Heart Walks in Dallas-Ft. Worth, Atlanta, New England, and Long Island, and the Hops for Hearts event in Michigan. 
As updates on a new schedule become available, I will share them with you. As our Congenital Heart Walks take place, we will continue to implement increased infection prevention measures, including:
Providing only individually-packaged and sealed food items and water 
Providing hand washing stations and hand sanitizer
Requiring all staff and volunteers to wear gloves
Urging guests, volunteers, and staff to stay home if they are feeling sick or have concerns
Most importantly, I encourage you to do what is best for you and your Heart Warriors as you consider your event attendance.  
Amidst the uncertainty in the world, The Children's Heart Foundation is providing hope for those impacted by congenital heart defects. To that end, we appreciate your continued fundraising support of our critical mission. With your help, we will be able to fund scientific breakthroughs and maintain our research commitments for 2020. Truly, the need has never been greater.
Thank you for your patience, your dedication, and your generosity. As a family committed to Placing Children at the Heart of Research, I know we will get through these uncertain times together.
With kindness, 
Barbara Newhouse
President and CEO of The Children's Heart Foundation
P.S. – If we can help you at all, please let us know.
For more information on COVID-19 and how to protect yourself, please consider these resources: