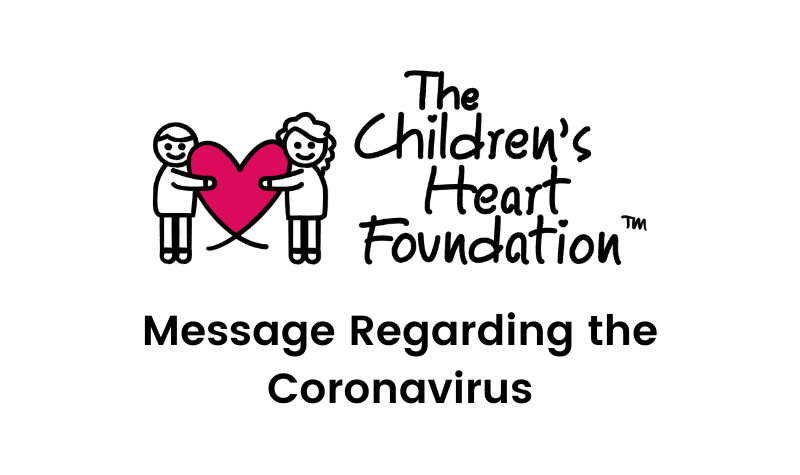 Dear Children's Heart Foundation Families, Donors, and Supporters,
With the cases of COVID-19 (Coronavirus) growing within the United States, your Children's Heart Foundation team is aware that many of you may have questions related to whether or not we will continue with our upcoming Congenital Heart Walks and other events.
The health and safety of our families is paramount to The Children's Heart Foundation and like you, we are monitoring the situation day by day. In the meantime, we are taking increased infection prevention measures at all of our walks moving forward, including:
Food items and water will be individually packaged and sealed
There will be hand washing stations and hand sanitizer on site
All staff and volunteers will be provided gloves
Encouraging people to stay home if they are feeling sick
Should any of our walks or other events be postponed due to the Coronavirus, we will let you know and continue to share updates. We encourage you to do what makes you feel most comfortable and what's best for your families and Heart Warriors.
We hope that you will continue your online fundraising in support of our critical mission, as the funds you raise have a direct impact on our ability to fund researchers who are doing good work in the field. With your help, The Children's Heart Foundation has funded more than $13 million of CHD research and scientific collaborations to date, helping to dramatically improve survival, longevity, and quality of life for CHD patients everywhere. Please help us keep the momentum going and keep our research funding commitments for 2020!
Thank you for your patience and continued generosity. Together, we will continue Placing Children at the Heart of Research.
Please read the below resources for more information on COVID-19 and what to do to protect yourself:
With kindness,
Barbara Newhouse
President and CEO