Shriprasas "Shri" Deshpande, MBBS, MS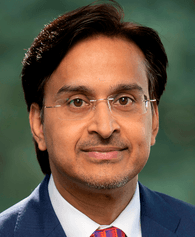 Shriprasad Deshpande, M.B.B.S., M.S., is the director of the Advanced Cardiac Therapies and Heart Transplant Program at Children's National Hospital. Dr. Deshpande, an intensivist and heart failure and transplant cardiologist, works within the Children's National Heart Institute (the Division of Cardiology and the Division of Cardiac Intensive Care) to guide the diagnosis and treatment of pediatric heart failure. Dr. Deshpande has published more than 70 studies and abstracts and oversees the clinical practice models, subspecialty clinics and academic research efforts at Children's National.
Dr. Deshpande currently serves as the vice president of the Pediatric Heart Transplant Society (PHTS) and will be the president of the society thereafter. He is the Chair for the Database Committee and the Communications Committee and serves on the Steering Committee. He also serves as the chair of the scientific committee at the nonprofit Enduring Hearts and is on the American Heart Association's Strategically Focused Research Network committee.