Nelangi Pinto, MD, MS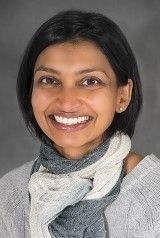 Nelangi M. Pinto, MD is a member of the Division of Pediatric Cardiology at Seattle Children's Hospital. Her subspecialty is non-invasive imaging and she is the Director of the Fetal Heart Program. She sees patients with all forms of congenital heart disease from infancy through late adolescence. Dr. Pinto also specializes in fetal echocardiography and has a research interest in improving prenatal detection of congenital heart disease.
JMC additional notes: Undergrad at Harvard, MD from the University of Michigan, residency at the University of Washington, fellowship at Children's Hospital of Philadelphia.