Generation POUND Workout Class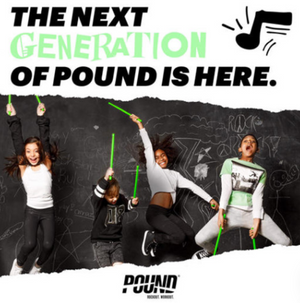 What if you could help POUND OUT CHDs while burning some serious calories AND have a BLAST doing it? Join us for a heart-pumping, action-packed, 45 minute Generation POUND Valentine's Day session, benefiting The Children's Heart Foundation!
When: Sunday February 14th, 2021
Time: 2 PM EST
Where: Zoom info coming soon!
Who: Anyone! Kids and Adults welcome
What You Need: Ripstix, drum sticks, wooden spoons or other items are helpful but not required!
Price: $20 Suggested Donation (click HERE to donate and enter donation amount)
Generation POUND® was created not just as a workout geared towards kids, but a MOVEMENT that aims to change the concept of health and fitness for today's youth. Get ready to make fitness about self-expression, empowerment, self-love and FUN! How? By introducing alternative ways to, MOVE, ROCK, PLAY and MAKE NOISE! A special Thank You to Casey Vanac for facilitating this class for The Children's Heart Foundation!
Register today: https://event.gives/poundoutchds
Your donation supports the mission of The Children's Heart Foundation: to advance the diagnosis, treatment, and prevention of congenital heart defects by funding the most promising research.