Virtual Congenital Heart Walk Weekend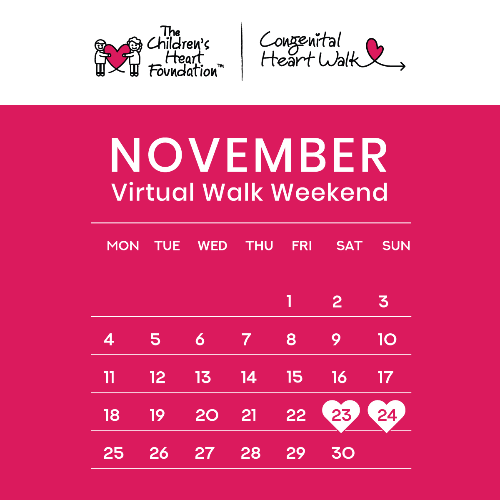 November 23rd & 24th is Virtual Congenital Heart Walk Weekend! There are so many great cities we were unable to make it to this year, but join us for the biggest Congenital Heart Walk of all – the 2019 Virtual Congenital Heart Walk happening across the United States! Whether there wasn't a walk near you or you were unable to participate, join us as we #WalkForCHDResearch, virtually, November 23rd & 24th!
You can participate anywhere you choose - your gym, a hiking trail, local 5k race, your favorite park – and join us as we walk to raise money for the most promising congenital heart defect (CHD) research. Please show your support for CHD research and help us reach our 2019 Congenital Heart Walk goal of $1.66 million! All participants are eligible to earn individual participant fundraising incentives (excluding the team tent).
Visit https://www.walkforchdresearch.org/virtual to register as a fundraising walker or team captain. Form your team, tell us why you #WalkForCHDResearch, and let us know where you'll be walking! Create a video encouraging your friends to join you in the virtual walk and share it on social media - make sure to tag @TheCHF & @WalkForCHDResearch.
All individuals who register and either fundraise or donate at least $40 to their page by midnight November 9th will receive a mini-flag and Walker bib (pictured below), and be eligible to win one of ten Vintage Children's Heart Foundation swag packs, including our classic red shirt or sweatshirt, a tumbler and two water bottles.