Milwaukee Congenital Heart Walk (Wisconsin)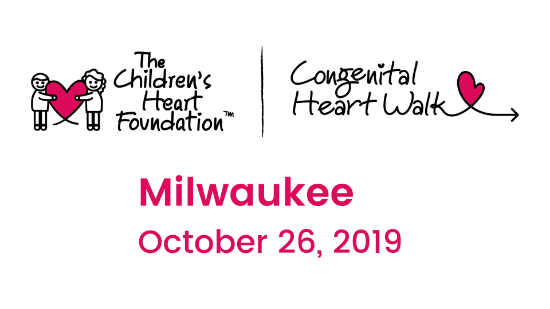 Join us as we #WalkForCHDResearch at the first-ever Milwaukee Congenital Heart Walk! This fundraising event includes a family-friendly walk, research remarks, kids' activities, games, crafts, character actors, refreshments, music, remembrance and more. There is no charge to attend but participants are asked to fundraise or donate.
Event Venue: Veterans Park
Event Date: October 26th, 2019
Event Address: 1010 N Lincoln Memorial Dr, Milwaukee, WI 53202
The Day's Schedule*:
Venue Opens: 8:30 a.m.
Registration Opens: 8:30 a.m.
Pre-Event Activities Open: 8:30 a.m.
Announcements and Remarks: 9:00 a.m.
Walk Starts: 9:30 a.m.
Family Fun and Activities: 8:30 - 12:00 p.m.
Event Ends: 12:00 p.m.
*Times may be adjusted. Please check back closer to walk day!