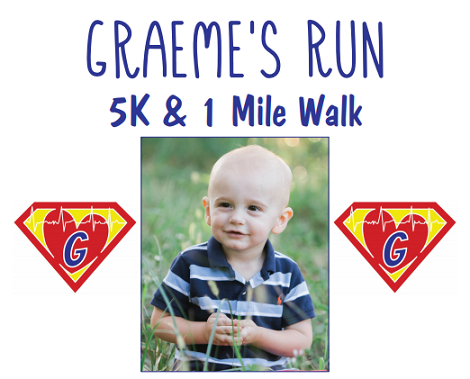 GRAEME'S RUN EVENT UPDATE:
With Harris County at an increased threat level, the city of Katy isn't permitting public events. That means, we will NOT hold the 5k and 1 mile run/walk this year. HOWEVER, GRAEME'S RUN WILL CONTINUE! After working with the City of Katy, No Label Brewery, and talking to lots of friends & family, we've come up with another format that will safely allow us to continue to honor our son and fund important congenital heart defect research through The Children's Heart Foundation.
In order for us to not be packed into No Label, we will be extending the length of the event. Instead of our normal 2 hours, we will be at No Label from 9AM to 2PM on February 20, 2021. This longer window will allow us all to maintain proper social distancing and give you plenty of time to grab your packet and say hi. No Label is a large, outdoor venue, with plenty of room to spread out. We will have Chris Boise jamming great music and light activities for the kiddos (young and old). Like previous years, there will be free beer for those of age. We will also have our great raffles and silent auctions again. Tickets are $5 and can be purchased by cash, check, or credit card at packet pick-up or on the day of the "run". You do not need to be present to win. If you're comfortable, feel free to come anytime to grab a beer (or not) and celebrate heart warriors and heart angels everywhere. Please keep in mind that No Label has a strict mask policy that will be enforced (they can get shut down if not enforced). If you are up from a table, a mask must be worn. Once you are sitting down, no mask is required.
To keep up with the digital times, we would love it if you would post some pictures of your own virtual Graeme's Run/Walk of whatever distance you choose to our Facebook page during the run week/weekend. Even if it is just you sitting around the house in your run shirt, sporting your run bib, or drinking from your Graeme's Run pint glass, we'd love for everyone to be able to see people in their gear!
Just like years past, 100% of your registration fee will go straight to the Children's Heart Foundation. This is made possible by the generous support from our sponsors, including our Diamond Sponsors, Skidder Construction and Circle B Veterinary Hospital. You can register HERE!
Packet Pick-up (shirt, run bag, and pint glass):
No Label Brewery
5351 1st St.
Katy, TX 77493
281-693-7545
Thursday 2/18 3PM – 7PM
Friday 2/19 3PM – 7PM
Sweatshirts:
Due to popular demand, we are offering our Graeme's Run sweatshirts to anyone who would like to order one. The sweatshirts are gray Under Armour hoodies with the logo on the front. They are $40, super soft and comfortable. The order period is open until January 11th. You have the option to have it shipped to your house (late January), or you can pick them up in Katy (Firethorne neighborhood). $5 from each hoodie will be donated to the Children's Heart Foundation. If you think you might be between sizes, go with the smaller size, as they run a little large. You can order through this Google Form.
Sponsorship:
We LOVE our sponsors. Because of our generous sponsors, we are able to donate 100% of all registration straight to the Children's Heart Foundation. If you, your company, or a generous company that you know of would be interested in sponsoring, go to http://www.graemessuperheroes.org/sponsors. Also, click on that link to see who has already signed up to support those heart families!
If you have already signed up and had your heart set on the traditional Graeme's Run format, please contact Stephanie McDaniel to let her know if you would like your registration fee refunded.