Katie McLennan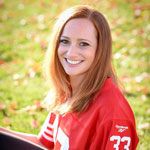 Before my nephew, Paxton, was born I had no idea what a congenital heart defect was. When my sister Emily and mom, Lisa asked if I wanted to go to the very first CHF-CA meeting with them, I knew I had nothing to lose!
After attending meetings for over a year as a volunteer, I finally took the plunge and became an official board member in 2015! Having the opportunity to be involved in The Children's Heart Foundation has not only made me a better person, but I now realize how big of an impact raising awareness can have on so many peoples' lives.
In addition to being involved with CHF-CA, I work as an Oral Surgery Assistant and Dental Implant Coordinator in Rocklin, CA. I have worked in the dental field for about five years and have crossed paths with several Heart Warriors!