Carl L. Backer, MD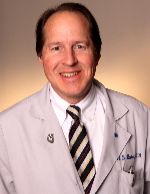 Carl L. Backer, MD is a congenital heart surgeon and the A.C. Buehler Professor of Surgery at Northwestern University's Feinberg School of Medicine. He is also the Surgical Director of the Heart Transplant Program at Ann & Robert H. Lurie Children's Hospital of Chicago. Dr. Backer received his Doctor of Medicine degree from the Mayo Medical School in 1980. He completed his general and cardiothoracic surgical training at Northwestern University Medical School in 1987.  Dr. Backer was Chairman of the Medical Advisory Board of the Children's Heart Foundation from 2003 to 2014.
Dr. Backer and the late Dr. Farouk S. Idriss performed the first heart transplant at Children's Memorial Hospital on May 13, 1988. Dr. Backer has performed more than 300 heart transplants. Dr. Backer also has a strong clinical interest in neonatal cardiac surgery, tracheal surgery, vascular ring surgery, and arrhythmia surgery.  Dr. Backer has authored or co-authored over 300 refereed articles, 105 book chapters, and 5 textbooks.  He is the co-editor of three cardiac surgery textbooks: Pediatric Cardiac Surgery (2nd, 3rd, and 4th editions) and Atlas of Pediatric Cardiac Surgery with Dr. Constantine Mavroudis, and Wilcox's Surgical Anatomy (4th edition) with Dr. Robert H. Anderson.
Over the last 30 years Dr. Backer has helped train the Northwestern, Loyola, and Rush University cardiothoracic surgical residents. He established the ACGME accredited Congenital Cardiac Fellowship at Northwestern University, one of 12 programs in the country.
Dr. Backer is the immediate Past-President of the Congenital Heart Surgeons' Society and is the current President of the Mayo Clinic Alumni Association. He is a member of 25 national and international surgical societies and is a Director on the American Board of Thoracic Surgery. Dr. Backer is an Associate Editor of The Journal for Thoracic and Cardiovascular Surgery, and the World Journal for Pediatric and Congenital Heart Surgery.  
Dr. Backer and his family are avid skiers and enjoy the beautiful mountain scenery in Telluride, Colorado in the winter months. In the summer they like to spend time on Nantucket Island.